"Are you trying to find reliable and compatible solar panels that efficiently reduce power consumption and provide ongoing energy? If that's what you are looking for, then you are on the right page as we are going to review compatible and durable monocrystalline solar panels."

Renogy Solar Panel 2pcs 100 Watt 12 Volt Monocrystalline, 2-Pack Compact Design
We understand that finding the perfect solar panel for power supply can give you a tough time. Solar panels come in different sizes and outputs, and it is hard to make a choice. Moreover, all of them are equipped with various features, making it troublesome to identify the crucial features.
However, look no further and continue reading, as we will discuss the Renogy 100 Watts 12 Volts Monocrystalline Solar Panels comprehensively. Furthermore, the information provided in this article will be very beneficial for you if you want a solar panel for your place.
Remarkable Qualities That Only Renogy Solar Panels Offer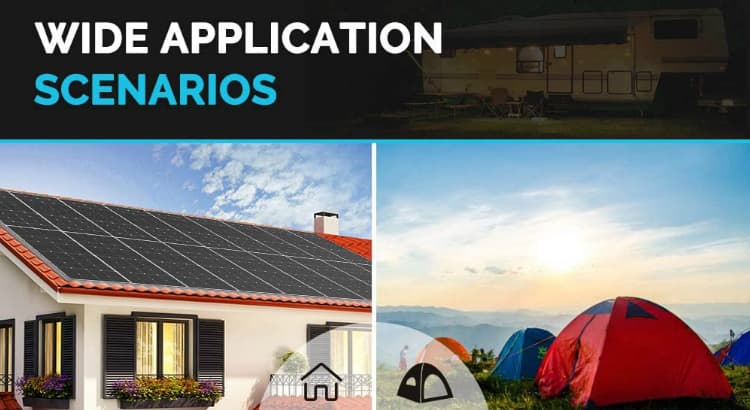 Renogy monocrystalline solar panel is high in power and compact in size. Furthermore, it comes with a high power of 100 watts and has a voltage of 12 volts. This solar panel is ideal for application which demands a relatively smaller footprint. For instance, campers consider it highly compatible. Moreover, it is also equipped with a junction box and solar panel connectors.
Renogy 100 Watts 12 Volts monocrystalline solar panel is very reliable as well. Its operating temperature is between -40℉ and 176℉, which can withstand harsh weather conditions. In addition, this panel is equipped with bypass diodes. These diodes help them to capture light and work efficiently even in shade or low light intensity.
Moreover, the Renogy monocrystalline solar panels are comparatively lightweight and easy to lift. You can install this solar panel wherever you want to. These solar panels are equipped with multi-layered sheet laminations, which help in improving the performance. Along with that, the monocrystalline cell-matrix reduces the weight and size and enhances the panel's efficiency.
You can easily connect Renogy 100 Watts 12 Volts monocrystalline solar panels to any suitable device with a 12 Volts DC supply. In addition, the panel supports fast charging and defending on the light intensity; it can quickly charge a power station within three to five hours.
5 Incredible Features Of Renogy Monocrystalline Solar Panels
Now, we will discuss five incredible features of the Renogy solar panel that make it a better option for you than traditional solar plates.
Ready To Install
These solar panels are effortless to handle. The frame comes with pre-drilled holes for easy installation. Along with that, MC4 connectors are also available at the ends of the wires. These connectors help in quick and easy connections. It also has pole mounts and tilt mounts.
Durability
Renogy solar panels are made with high-quality and durable material, which helps them withstand high winds ( 2400 Pa) and snow loads ( 5400 Pa). The frame of the solar panel is made from aluminium, which makes the panel last for decades.
Versatility
Renogy monocrystalline solar panels can be used for many applications. It is compatible with both on-grid and off-grid inverters. It can be easily mounted to the ground. It can also be mounted using the pole mount, tilt mount and even easily be transferred from one point to another.
Anti-Reflective Surface
The surface of the solar panel doesn't reflect light. It offers high transparency. The glass used in the panel is very stiff and impact resistant. This high-quality tempered glass readily absorbs light and high power due to maximum absorption of light.
Smooth Performance
Renogy solar plate comes with a Tedler Polyester and sheet that covers the backside of the panel. This layer of TPT provides strength to the solar panel. It not only prevents it from damaging but also ensures smooth performance for a long time.
Pros And Cons Of The Renogy Solar Panel
Pros:
Portable
Bypass Diodes
Extended Warranty
Corrosion-Resistant Frame
Cons:
Pricey
Mounting Equipment Required
6 Amazing Tips That Will Make Your Task Easier
Before buying the solar panel, consider the space where you would like to install it and buy the right size according to the area.
Calculate the energy needs of your house, and then buy the solar panels accordingly.
After buying the solar panel, read the user manual carefully to avoid any issues.
Install the solar plate where it can absorb maximum sunlight, do not install in the shade.
You can also get help from a professional to select the right place for installation.
Clean the upper surface of the solar panel once in a while and remove the dust for maximum light absorption.
Some Frequently Asked Questions About Renogy Solar Panels
Let's see what questions people have about the Renogy solar panels. In this section, you might find the answer to your query as well.
1.Do monocrystalline solar panels help in reducing energy consumption?
Using a monocrystalline solar panel, you can reduce the amount of energy used from the grid. You can also attach batteries with your solar panels to store energy and use the power at night or when sunlight is unavailable.
2.What kind of control is required for a solar panel?
You can use a solar charge controller with your solar panel. These controllers are very convenient. Controllers maintain the voltage needed to charge the battery fully. They also prevent overcharging and undercharging of the battery.
3.How to increase solar panel output?
To have maximum output from the solar panel, buy the one with a high concentration of photovoltaic cells to capture light. These solar panels will capture maximum sunlight, and it will result in maximizing the output. Also, install the solar panel where it can get more sunlight.
4.How many solar panels do you need for complete coverage?
Your requirement for solar panels depends on your power consumption. You will have to calculate your hourly household energy requirements. Also, around 3-4 solar panels are needed to produce 1 kilowatt of power.
Conclusion
After reading this article, we hope you are now aware of the essential features of the Renogy solar panel. You can now buy solar panels for your house and quickly install them.
If you want a superior quality solar panel, then Renogy 100 Watts 12 Volts Monocrystalline Solar Panels will be a good value for your money.
Read More Our Review: