"Outdoor trips are awesome. From hiking to biking to rafting—they all provide soothing adventure for outdoor enthusiasts. But one downside of going on these trips is that you can barely keep your cell phone battery alive."
Especially when you can't ignore beautiful nature scenery.

Hiluckey Solar Charger 25000mAh Portable Solar Power Bank Waterproof Battery Packs with Dual Ports Solar Phone Charger for Smartphones and Tablets
However, this might not be a problem if you have a solar power bank handy. Wanna buying an outdoor power bank? Consider Hilucky Outdoor Portable Power bank.
This power bank is a dependable power source when you go off the grid. I bet you are dying to find out everything about this solar bank.
And is it really worth the hype? Keep reading to find out.
How does a Solar Power Bank Work?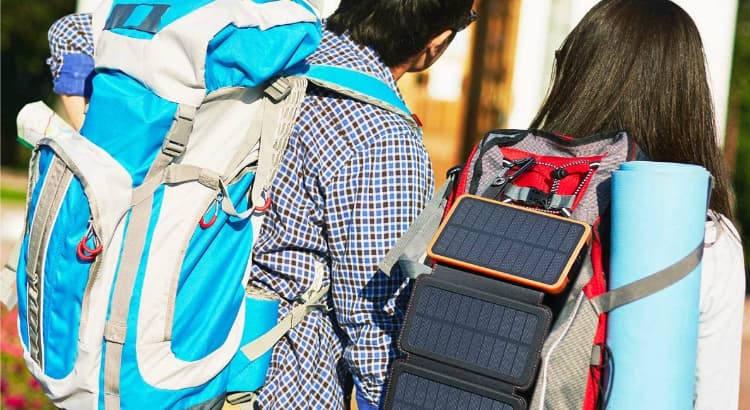 Solar power banks are nothing like solar chargers—except they both use solar energy. When you charge a solar power bank in the sun, it holds the charge for later use.
It's just like regular power banks. Solar battery chargers have various power voltages depending on the capacity. For lasting and faster charges, a higher voltage is better.
Features of Hiluckey 2500mAh Solar Charger
Charging speed and Power bank Capacity
The charging speed of this device isn't so impressive. This is probably because it doesn't have any notable fast charging protocol.
But for what it's worth, Hiluckey is compatible with a wide range of phone types. This versatility makes it one of the leading solar battery chargers.
One other feature that makes it a preferable choice is its capacity. Hillucky portable power bank provides you with a whopping 2500mAh capacity.
If you aren't conversant with power bank capacity, telling you it can charge an iPhone X 6 times might be a better illustration. So, you can go camping without any worries.
Because of its not-so-fast charging ability, I would recommend that you charge your smartphone overnight.
Just as expected, this high-capacity bank comes with dual ports. Hence, you can charge two devices at once. Hiluckey solar charger (hi-s024) has a total output of 5v/2.1 A, and it can intelligibly detect the output port's current. This enables it to supply the required charging output.
The main downside of charging two devices together is that it will take more time to charge each device. This is because the Hiluckey power bank doesn't give out 2.1A when you charge two devices simultaneously.
As regards the input, it has four foldable and highly efficient panels. This feature contributes to its 5W power and 1A input current under sunlight. These multiple panels make it charge about 4 to 6 times faster than most solar battery chargers.
For diversity, it also has a micro-USB port with a 5v/1.8A ability. The USB port allows you to charge it from the wall. If you charge it with a 2A wall charger, it will be fully charged in about 12 to 15 hours.
Contrarily, with a 1A wall charger, you need to charge it for 25 hours. This is fair enough considering the size of this solar power bank. However, with limited sunlight, the power bank might take 30 to 50 hours before it attains a full charge.
Peradventure, you are worried about how to charge your phone while this battery pack is recharging, you need not worry.
You can charge your smartphone with your Hiluckey 2500mAh Solar Charger even while it's recharging. The problem with this "pass-through charging" is that the output tends to be more than the input.
Simply put, the battery pack loses more mAh than it regains from the USB port charging or the sunlight. However, this feature isn't popular due to the safety concerns associated with it.
Hiluckey 25000mAh's appearance is lovable. It's made of solid plastic and has a rectangular shape with rounded edges. It also features a sleek black matte texture which prevents scratches.
The back and sides have the same color which can be Orange, black, or light blue. On the back, you will notice grooves in from of five half-hexagons. The center, on the other hand, has a label that contains the technical specifications.
Both the output and input USB ports are in front of the solar battery charger. You will find the LED power indicator on the right side of the device.
Additionally, it features four blue lights indicating the power percentage in 25% fractions. And you can't miss the power button right at the back. This power button has dual functionality; it serves as the power button and an LED flashlight power button.
When you intend to turn on the flashlight, just hold it down for a few seconds. The device comes on when you press the button once.
As for the flashlight, it shines brightly from the rear with a powerful 9 level inbuilt LED light. In case of an emergency, Hilucky's LED light can be a wholesome buddy. It's undoubtedly well kitted for outdoor trips.
And finally, you can fold the solar panels and strap them after use.
Hilucky outdoor portable power bank is sturdy and powerful enough to handle the tussle that comes with outdoor trips. The formidable texture is shockproof and waterproof. It has external protection against smudges or water drops.
The USB ports have solid rubber-like protection which keeps it safe from dust or water. Summarily, if this power bank falls into a pond, you only need to be concerned about staying safe while fishing for it.
With an in-built IC chip, you can be certain this device won't develop or cause any charging problems. And if it does develop a hitch, your 1-year warranty, and 30-day money-back assurance will sort it out.
Verdict: Portable and Laudable
While it's not the fastest solar power bank out there, it's by far one of the most durable, formidable, and reliable.
Plus, it's well-built to deliver heightened power needs. So, you don't need to be bothered about charging your phone during adventure-centric trips. With Hilucky Outdoor Portable Power bank, you've got no worries.
Read More Our Review: